TØWELDEIA.SE
---
" A towel is about the most massively useful thing an interstellar hitch hiker can have. "
- Douglas Adams, The Hitchhiker's Guide to the Galaxy
It seems, however, that the full description of the usefulness of a towel fails to include an important practical value known a long time ago in another part of the galaxy: when folded into a stylish Princess Leia Bun it not only provides the ears of its wearer with a few extra degrees of comfortable warmth, it also acts as a fashionable statement in hairstyle diversity.
Therefore, Q42 - its name derived from Douglas Adams' books - would like to present this very special towel: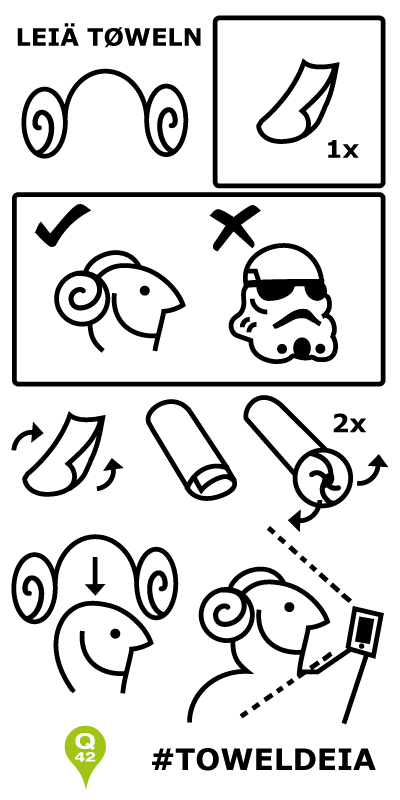 For practical reasons, the LEIÄ TØWELN has its folding instructions printed on itself and depending on the folding direction, its wearer can have either a dark or light bun and so declare his or her affinity with a preferred side of the Force.
So join the celebration of Towel Day by folding your own towel into a LEIÄ TØWELN and tweeting a selfie with #toweldeia. By doing so you automatically take part in the competition to win our special Q42 LEIÄ TØWELN pictured above. Good luck and we'll see you in the galaxy that binds us.
Happy Towel Day!
AJÖSS OCH TACK FÖR FISKEN